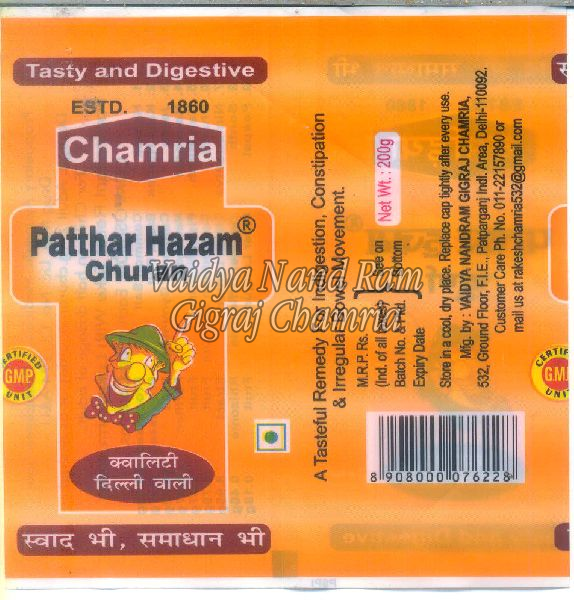 Podina, is also known as mint is very healthy and effective herbs used in various types of medicines and Indian cuisines as well. It is an aromatic, perennial and annual grown herb. It is available in huge quantity in India. This is the reason it is used in various forms by Indian. Some of the forms it is used as chutney, mouth freshener, candies, gums, and in powdered form as well.
Podina Churan
The powdered form of mint with added spices and flavours is Podina Churan easily available in the market. Mint powder is used to make podina churan which is made by drying fresh mint leaves. The dried mint powder has a longer shelf life and is preferred than the fresh ones in various culinary uses. It is easy to store and can be used to make candies, churan, jellies, syrups, and ice creams.
How to store Podian Churan?
It should be stored in an airtight container which should be placed in a cool, dark and dry place.
Health benefits of consuming mint powder or Podina Churan:
Mint is good for boosting digestion powers. Hence, the mint powder helps improve the digestive system. Being appetite stimulant in nature, it helps in the secretion of gastric juices.
Medicinal uses of mint powder:
Mint powder is used as a medicinal herb to treat stomach ache and chest pain caused due to acidity. Long years back, dried mint leaves were used to clean teeth. If you drink tea with mint powder in it then you will help your digestion to be improved. Also, it breaks down fat to treat obesity, indigestion, loss of appetite, and acidity
How do Podina Churan Manufacturers in Delhi make this healthy product?
The podine churan manufacturers make this appetizer powder using fresh mint herbs leaves. These leaves are dried hygienically and 100% natural process. These dried leaves are then churned into powdered form to make podina churan. The mint powder is then mixed with certain digestion aiding spices and taste enhancer. There are quality controllers to ensure the podina churan is hygienically processed such that pure quality of podina churan is delivered in the market. They make sure the churan is packaged hygienically in spill-proof packaging.
Where to get them?
Podina churan is easily available in the market. There are a few Podina Churan Manufacturers in Delhi who supply this essential product in bulk quantity online as well as at the local stores. They can provide other types of appetizer churan and digestive tablets
There are also wholesale dealers of Podian Churan who can make available trusted quality pouches and packets on reasonable price in bulk. Their team members work diligently to deliver a complete range of appetizer churan in conformance with international standards. Their raw products are 100% approved and quality tested.
They can provide
• Trusted varieties of appetizer churan at market leading price
• Well-integrated warehouse to supply bulk orders
• Set quality standards to meet the expectations
• Different parameters to check the quality
• Knowledge and informed workforce